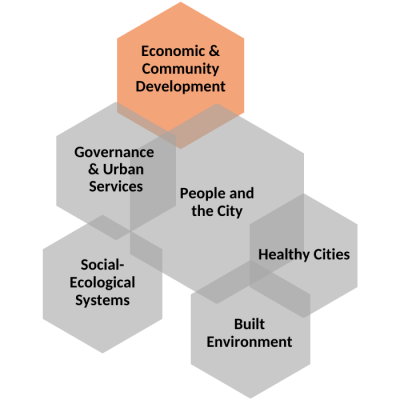 This page shows all SGCI Faculty Affiliates who have selected Economic and Community Development as either a primary OR secondary Research Theme.
The SGCI uses six broadly-defined Core Research Themes, pictured at right, to better categorize UConn's research capacity on topics involving cities.  Our Faculty Affiliates are grouped according to these six themes.  Affiliates self-select one primary Research Theme that best represents their research and scholarship, and — since cities-related research is often interdisciplinary — they typically select one or more secondary themes as well. 
Click on any Faculty Affiliate name to see a detailed profile, including contact information, research interests, recent cities-related publications, useful links, and more.  Use the links in the sidebar at left to browse SGCI Faculty Affiliates by last name or Research Theme.
You can learn more about the SGCI's Faculty Affiliate program here.
4
Photo
Name
Title
Email
Jorge Aguero
Associate Professor, Economics and El Instituto

jorge.aguero@uconn.edu
Mohamad G Alkadry
Professor and Department Head, Department of Public Policy

mohamad.alkadry@uconn.edu
Mostafa Analoui
Executive Director, UConn Venture Development and Technology Incubation Program

mostafa.analoui@uconn.edu
Edith Barrett
CLAS Associate Dean
Program Director, Urban and Community Studies
Professor, Public Policy

edith.barrett@uconn.edu
Mary Bernstein
Professor, Sociology

Mary.Bernstein@uconn.edu
Laura E. Brown
Associate Extension Educator, Community Economic Development

laura.brown@uconn.edu
Eric Brunner
MPA and MPP Program Director
Professor, Department of Public Policy

eric.brunner@uconn.edu
Scott Campbell
Associate Professor, English

scott.campbell@uconn.edu
Katharine Capshaw
Professor, English

capshaw@uconn.edu
Fred V. Carstensen
Director, Connecticut Center for Economic Analysis
Professor, Finance, School of Business

fred.carstensen@uconn.edu
Noel Cazenave
Professor, Sociology and Urban and Community Studies

noel.cazenave@uconn.edu
Xiang (Peter) Chen
Assistant Professor, Geography

xiang.chen@uconn.edu
Jeffrey P. Cohen
Professor, Real Estate and Finance at UCONN's Center for Real Estate
Dean's Ackerman Scholar, School of Business

jeffrey.cohen@business.uconn.edu
Ryan Scott Coles
Assistant Professor, School of Business

ryan.coles@uconn.edu
Thomas Cooke
Professor, Geography

thomas.cooke@uconn.edu
Andrew Deener
Associate Professor, Sociology

andrew.deener@uconn.edu
Morgaen Donaldson
Director, Center for Education Policy Analysis
Associate Professor, Educational Leadership
Coordinator, Learning, Leadership and Education Policy Ph.D. Program (Leadership and Education Policy Concentration)

morgaen.donaldson@uconn.edu
Mary Donegan
Assistant Professor In-Residence, Urban and Community Studies

mary.donegan@uconn.edu
Nathan Fiala
Assistant Professor, Agriculture and Resource Economics

nathan.fiala@uconn.edu
Timothy Bernarr Folta
Director, Connecticut Center for Entrepreneurship and Innovation
Professor and Wolff Family Chair in Strategic Entrepreneurship

timothy.folta@uconn.edu
David Garvey
Director, Nonprofit Leadership Program
Adjunct Professor, Public Policy

d.garvey@uconn.edu
Prakash Kashwan
Associate Professor, Political Science

prakash.kashwan@uconn.edu
James O'Neil Knighton
Assistant Professor, Department of Natural Resources and the Environment

james.knighton@uconn.edu
Samuel Martinez
Professor, Anthropology

samuel.martinez@uconn.edu
Glenn Mitoma
Assistant Professor, Human Rights and Education
Director, Thomas J. Dodd Research Center

glenn.mitoma@uconn.edu
Michael O'Neill
Associate Dean and Associate Director, UConn Extension, College of Agriculture, Health and Natural Resources

mp.oneill@uconn.edu
James O'Donnell
Executive Director and Professor, Connecticut Institute for Resilience and Climate Adaptation

james.odonnell@uconn.edu
Nishith Prakash
Associate Professor, Economics and Human Rights

nishith.prakash@uconn.edu
Mark Robbins
Professor, Department of Public Policy

mark.robbins@uconn.edu
Stephen Ross
Professor, Economics, Urban and Community Studies, and Public Policy

stephen.l.ross@uconn.edu
Cathy J. Schlund-Vials
Director, Asian and Asian American Studies Institute
Professor, English and Asian and Asian American Studies

Cathy.Schlund-Vials@uconn.edu
Louise B. Simmons
Professor, School of Social Work
Chair, Urban Issues in Social Work

Louise.Simmons@uconn.edu
Jennifer Terni
Associate Department Head and Associate Professor, Literatures, Cultures, and Languages

jennifer.terni@uconn.edu
Charles R. Venator-Santiago
Associate Professor, Political Science, El Instituto

charles.venator@uconn.edu
Fiona Vernal
Associate Professor, History and Africana Studies

Fiona.Vernal@uconn.edu
Christopher R. Vials
Associate Professor, English
Director, American Studies

christopher.vials@uconn.edu
Robert H. Wilson
Director, Sustainable Global Cities Initiative
Visiting Professor, Department of Public Policy

robert.h.wilson@uconn.edu
Chuanrong (Cindy) Zhang
Department Head and Professor, Geography

cindy.zhang@uconn.edu
Jin Zhu
Assistant Professor, Civil and Environmental Engineering

jzhu@uconn.edu