Who are SGCI Faculty Affiliates?
SGCI Faculty Affiliates are members of the UConn community who have signaled that they have a significant cities-related focus in their research, teaching, and other scholarly activities, and want to take an active role in building and expanding the research community here at UConn.
Currently, we have several dozen Faculty Affiliates and counting, representing 30 departments and 6 colleges and schools throughout the University. As the SGCI continues to expand its operating structure, messaging outreach, and slate of support activities, we hope to attract new researchers to our Faculty Affiliate list and add to the incredible momentum already in place from UConn's prolific roster of faculty and staff who study urban-related topics.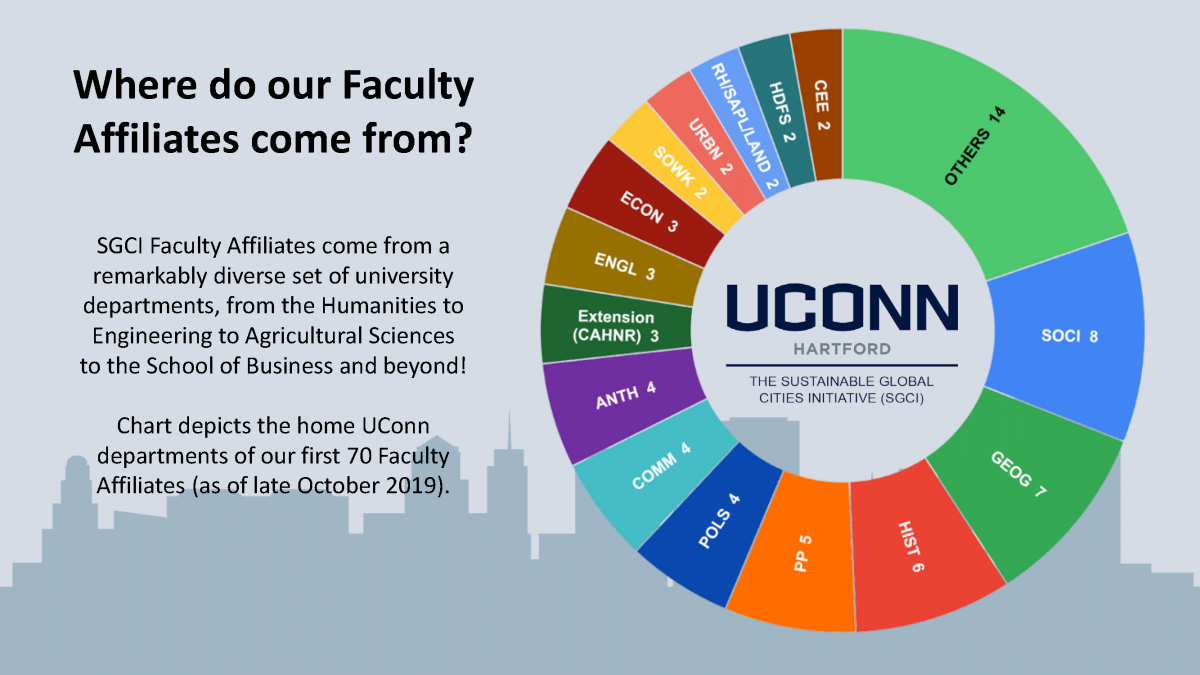 What is the SGCI Faculty Affiliate Directory?
One of the main goals of the Sustainable Global Cities Initiative is to maximize UConn's urban-related research and outreach efforts by identifying, connecting, and supporting scholars in related fields.
To help realize this goal, we have created a searchable online directory of our Faculty Affiliates: UConn scholars, researchers, and experts in urban-related topics who have chosen to join the SGCI in support of the Initiative's vision, mission, and goals. With the SGCI Faculty Affiliates directory, researchers can find colleagues who share similar academic interests, and members of the public can find experts in various cities-related topics. In addition to contact information, our directory prominently displays research themes, self-described research interests, project descriptions, and recent cities-related publications for all of our Faculty Affiliates.
Our Faculty Affiliate Directory can be viewed alphabetically by last name, or broken down by Research Theme. (For more information about the six Core Themes of urban research used by the SGCI, including brief definitions, please visit our Reference Materials page.)
Why become a Faculty Affiliate of the SGCI?
As an SGCI Faculty Affiliate, you will have the opportunity to:
Associate with an active and engaged research community. Our Faculty Affiliate network offers the chance to connect with colleagues around the university who are likewise focused on investigating key questions relating to cities and new models of urban life.
Receive support for your research from the SGCI. Forms of support, including grants, opportunities to participate in research networks and access to external clients, will scale with future fundraising efforts. SGCI Faculty Affiliates are also eligible to reserve office space in the SGCI Suite at UConn Hartford for 1-2 semesters at a time. Our list of current "resident" Faculty Affiliates can be found on our Staff and Resident Faculty page.
Access exclusive media messaging. The SGCI is developing several channels (e.g. a website, online databases, social media, and podcasts) designed to amplify the visibility and impact of the diverse urban-related scholarship and projects being produced by UConn professors and researchers.
Stay informed about new projects, programs, conferences, and events related to cities taking place both inside and outside the larger UConn community.
How Can I Become a Faculty Affiliate?
The process to become an SGCI Faculty Affiliate requires submitting a recent C.V. and filling out a form that helps us identify your cities-related scholarly interests. Please contact us at sgci@uconn.edu if you are interested in learning more about becoming a Faculty Affiliate.