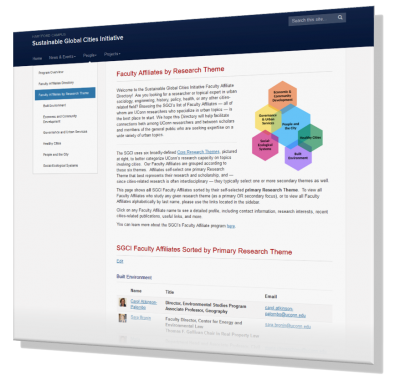 The SGCI is happy to announce that our long-anticipated online Faculty Affiliate directory is now up and running! This is an important milestone for the SGCI's initial messaging strategy, as we hope to make it easier than ever for colleagues and members of the public to find scholars and researchers of urban topics at UConn.
In addition to contact information, our new directory prominently displays research themes, self-described research interests, project descriptions, and recent cities-related publications for our 80+ Faculty Affiliates, who represent 30 departments and 6 colleges and schools. The directory can be viewed alphabetically by last name, or sorted by each Affiliate's self-selected primary Research Theme.
The breadth of expertise among our Faculty Affiliates is one of the strongest arguments for a strengthened focus on city-related research at UConn, and the SGCI is dedicated to developing a long-term messaging strategy that will promote their collective work to both internal and external constituencies.  For our next phase of development, we plan on incorporating a more thorough listing of recent cities-related publications for each Faculty Affiliate.  Online profiles are added and updated on a rolling basis; if you are a Faculty Affiliate who wishes to add more information to their SGCI online profile, email us at sgci@uconn.edu. To learn more about the SGCI's Faculty Affiliates program, visit our FA Program overview page.
---