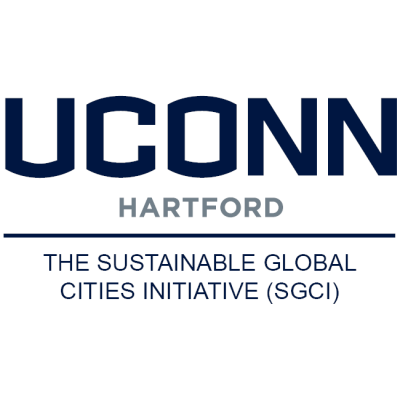 Welcome to the Sustainable Global Cities Initiative Faculty Affiliate Directory!  Are you looking for a researcher or topical expert in urban sociology, engineering, history, policy, health, or any other cities-related field? Browsing the SGCI's list of Faculty Affiliates — all of whom are UConn researchers who specialize in urban topics — is the best place to start. We hope this Directory will help facilitate connections both among UConn researchers and between scholars and members of the general public who are seeking expertise on a wide variety of urban topics.
---
This page shows all SGCI Faculty Affiliates in alphabetical order.  If you would like to see all our Faculty Affiliates sorted by their self-selected primary Research Theme, or to view all Faculty Affiliates who study any given research theme both as a primary AND secondary interest, please use the links located in the sidebar at left.
Click on any Faculty Affiliate name to see a detailed profile, including contact information, research interests, recent cities-related publications, useful links, and more.
You can learn more about the SGCI's Faculty Affiliate program here.
SGCI Faculty Affiliates (Alphabetical by Last Name)
4
SGCI Faculty Affiliate
Photo
Name
Title
Email
Jorge Aguero
Associate Professor, Economics and El Instituto

jorge.aguero@uconn.edu
Mohamad G Alkadry
Professor and Department Head, Department of Public Policy

mohamad.alkadry@uconn.edu
Mostafa Analoui
Executive Director, UConn Venture Development and Technology Incubation Program

mostafa.analoui@uconn.edu
Rob Aseltine
Chair and Professor, Behavioral Science and Community Health

aseltine@uchc.edu
Carol Atkinson-Palombo
Director, Environmental Studies Program
Associate Professor, Geography

carol.atkinson-palombo@uconn.edu
Edith Barrett
CLAS Associate Dean
Program Director, Urban and Community Studies
Professor, Public Policy

edith.barrett@uconn.edu
Juliana Barrett
Extension Educator, Connecticut Sea Grant

juliana.barrett@uconn.edu
Mary Bernstein
Professor, Sociology

Mary.Bernstein@uconn.edu
Phil Birge-Liberman
Associate Professor-in-Residence, Urban and Community Studies

phil.birge-liberman@uconn.edu
Alexis Boylan
Director of Academic Affairs
UConn Humanities Institute Associate Professor, Art + Art History Department and Africana Studies Institute

alexis.boylan@uconn.edu
Alaina Brenick
Associate Professor, Human Development and Family Sciences

alaina.brenick@uconn.edu
Laura E. Brown
Associate Extension Educator, Community Economic Development

laura.brown@uconn.edu
Eric Brunner
MPA and MPP Program Director
Professor, Department of Public Policy

eric.brunner@uconn.edu
Ross Buck
Professor, Department of Communication

ross.buck@uconn.edu
Meina Cai
Assistant Professor, Political Science and Asian and Asian American Studies

meina.cai@uconn.edu
Scott Campbell
Associate Professor, English

scott.campbell@uconn.edu
Katharine Capshaw
Professor, English

capshaw@uconn.edu
Fred V. Carstensen
Director, Connecticut Center for Economic Analysis
Professor, Finance, School of Business

fred.carstensen@uconn.edu
Milagros Castillo-Montoya
Assistant Professor, Higher Education and Student Affairs, Education

milagros.castillo-montoya@uconn.edu
Noel Cazenave
Professor, Sociology and Urban and Community Studies

noel.cazenave@uconn.edu
Jason Oliver Chang
Director, Asian and Asian American Studies Institute
Associate Professor, Asian American Studies and History

Jason.O.Chang@uconn.edu
Xiang (Peter) Chen
Assistant Professor, Geography

xiang.chen@uconn.edu
Maria Chrysochoou
Department Head and Associate Professor, Civil and Environmental Engineering

maria.chrysochoou@uconn.edu
Jeffrey P. Cohen
Professor, Real Estate and Finance at UCONN's Center for Real Estate
Dean's Ackerman Scholar, School of Business

jeffrey.cohen@business.uconn.edu
Ryan Scott Coles
Assistant Professor, School of Business

ryan.coles@uconn.edu
Thomas Cooke
Professor, Geography

thomas.cooke@uconn.edu
Kristen Cooksey Stowers
Assistant Professor, Allied Health Sciences

kristen.cooksey@uconn.edu
John Cooley
Assistant Professor-in-Residence, Ecology and Evolutionary Biology

john.cooley@uconn.edu
Debanuj DasGupta
Assistant Professor, Geography and Women's, Gender, and Sexuality Studies

debanuj.dasgupta@uconn.edu
Shardé Davis
Assistant Professor, Communication
Faculty Affiliate, Africana Studies Institute and Institute for Collaboration on Health, Intervention, and Policy

sharde.davis@uconn.edu
Andrew Deener
Associate Professor, Sociology

andrew.deener@uconn.edu
Manisha Desai
Department Head, Sociology
Professor, Sociology and Asian and Asian American Studies

manisha.desai@uconn.edu
Morgaen Donaldson
Director, Center for Education Policy Analysis
Associate Professor, Educational Leadership
Coordinator, Learning, Leadership and Education Policy Ph.D. Program (Leadership and Education Policy Concentration)

morgaen.donaldson@uconn.edu
Mary Donegan
Assistant Professor In-Residence, Urban and Community Studies

mary.donegan@uconn.edu
David G. Embrick
Director, Sustainable Global Cities Initiative
Associate Professor, Sociology and Africana Studies

david.embrick@uconn.edu
Robert T. Fahey
Assistant Professor, Department of Natural Resources and the Environment

robert.fahey@uconn.edu
Nathan Fiala
Assistant Professor, Agriculture and Resource Economics

nathan.fiala@uconn.edu
Timothy Bernarr Folta
Director, Connecticut Center for Entrepreneurship and Innovation
Professor and Wolff Family Chair in Strategic Entrepreneurship

timothy.folta@uconn.edu
Ken Foote
Director, Urban and Community Studies
Professor, Geography

ken.foote@uconn.edu
Mariana B. Alfonso Fragomeni
Assistant Professor, Plant Science and Landscape Architecture

mariana.fragomeni@uconn.edu
Kim M. Gans
Professor, Human Development and Family Sciences

kim.gans@uconn.edu
Anne Gebelein
Associate Director, El Instituto
Associate Professor-in-Residence, Latin American and Caribbean Studies

Anne.Gebelein@uconn.edu
Mark Healey
Department Head and Associate Professor, History
Faculty Affiliate, El Instituto

Mark.Healey@uconn.edu
Matthew Hughey
Associate Professor, Sociology
Adjunct Faculty, Africana Studies, American Studies, Race, Ethnicity, and Politics (REP), Institute for Collaboration on Health, Intervention, and Policy (InCHIP)

matthew.hughey@uconn.edu
Prakash Kashwan
Associate Professor, Political Science

prakash.kashwan@uconn.edu
Kristin Kelly
Associate Professor, Political Science

k.kelly@uconn.edu
James O'Neil Knighton
Assistant Professor, Department of Natural Resources and the Environment

james.knighton@uconn.edu
Tamika P. La Salle
Associate Professor, Educational Psychology

tamika.la_salle@uconn.edu
Ken Lachlan
Department Head and Professor, Department of Communication

kenneth.lachlan@uconn.edu
Kathryn Libal
Director, Human Rights Institute
Associate Professor, Social Work

kathryn.libal@uconn.edu
Kerry L. Marsh
Professor, Psychological Sciences

kerry.l.marsh@uconn.edu
Jiff Martin
Associate Educator, UConn Extension, College of Agriculture, Health, and Natural Resources

jiff.martin@uconn.edu
Samuel Martinez
Professor, Anthropology

samuel.martinez@uconn.edu
Peter Miniutti
Associate Professor, Plant Science and Landscape Architecture

peter.miniutti@uconn.edu
Glenn Mitoma
Assistant Professor, Human Rights and Education
Director, Thomas J. Dodd Research Center

glenn.mitoma@uconn.edu
Melanie Newport
Assistant Professor, History, American Studies, Urban and Community Studies

melanie.newport@uconn.edu
Michael O'Neill
Associate Dean and Associate Director, UConn Extension, College of Agriculture, Health and Natural Resources

mp.oneill@uconn.edu
Anne Oeldorf-Hirsch
Assistant Professor, Department of Communication

anne.oeldorf-hirsch@uconn.edu
Eleanor Ouimet
Assistant Professor-in-Residence, Anthropology

eleanor.ouimet@uconn.edu
Mark Overmyer-Velazquez
Dean and Chief Administrative Officer, UConn Hartford
Professor, History, Latino and Latin American Studies

Mark.Velazquez@uconn.edu
James O'Donnell
Executive Director and Professor, Connecticut Institute for Resilience and Climate Adaptation

james.odonnell@uconn.edu
Melina Pappademos
Associate Professor, History

Melina.Pappademos@uconn.edu
Sohyun Park
Assistant Professor, Plant Science and Landscape Architecture

sohyun.park@uconn.edu
Niralee K. Patel-Lye
Assistant Professor, Neag School of Education
Associate Director of Teacher Education

niralee.patel-lye@uconn.edu
Wizdom A. Powell
Director, Health Disparities Institute
Associate Professor, Psychiatry

wpowell@uchc.edu
Nishith Prakash
Associate Professor, Economics and Human Rights

nishith.prakash@uconn.edu
Kim Price-Glynn
Associate Professor, Sociology

kim.price-glynn@uconn.edu
Bandana Purkayastha
Professor, Sociology and Asian and Asian American Studies

bandana.purkayastha@uconn.edu
Tracy Rittenhouse
Director of Wildlife and Fisheries Conservation Center
Associate Professor of Wildlife Ecology, College of Agriculture, Health and Natural Resources

tracy.rittenhouse@uconn.edu
Mark Robbins
Professor, Department of Public Policy

mark.robbins@uconn.edu
Stephen Ross
Professor, Economics, Urban and Community Studies, and Public Policy

stephen.l.ross@uconn.edu
Beth Russell
Associate Professor, Human Development and Family Sciences

beth.russell@uconn.edu
Cathy J. Schlund-Vials
Director, Asian and Asian American Studies Institute
Professor, English and Asian and Asian American Studies

Cathy.Schlund-Vials@uconn.edu
Marlene Schwartz
Professor, Human Development and Family Sciences

marlene.schwartz@uconn.edu
Farhed A. Shah
Associate Professor, Agricultural and Resource Economics

farhed.shah@uconn.edu
Louise B. Simmons
Professor, School of Social Work
Chair, Urban Issues in Social Work

Louise.Simmons@uconn.edu
Tanya Rhodes Smith
Director, Nancy A. Humphreys Institute for Political Social Work
Instructor-in-Residence, Social Work

tanya.smith@uconn.edu
Rachel R. Tambling
Associate Professor, Human Development and Family Sciences

rachel.tambling@uconn.edu
Jennifer Terni
Associate Department Head and Associate Professor, Literatures, Cultures, and Languages

jennifer.terni@uconn.edu
Nathaniel Trumbull
Associate Professor, Geography

trumbull@uconn.edu
Charles R. Venator-Santiago
Associate Professor, Political Science, El Instituto

charles.venator@uconn.edu
Fiona Vernal
Associate Professor, History and Africana Studies

Fiona.Vernal@uconn.edu
Christopher R. Vials
Associate Professor, English
Director, American Studies

christopher.vials@uconn.edu
Sarah Willen
Director, Research Program on Global Health and Human Rights
Associate Professor, Anthropology

sarah.willen@uconn.edu
Michael R. Willig
Executive Director, Institute of the Environment
Director, Center for Environmental Sciences and Engineering
Professor, Department of Ecology and Evolutionary Biology

michael.willig@uconn.edu
Cristina Wilson
Associate Professor and Research Director, University Center for Excellence in Developmental Disabilities

cristina.wilson@uconn.edu
Robert H. Wilson
Director, Sustainable Global Cities Initiative
Visiting Professor, Department of Public Policy

robert.h.wilson@uconn.edu
Chuanrong (Cindy) Zhang
Department Head and Professor, Geography

cindy.zhang@uconn.edu
Ruodan Zhang
Assistant Professor, Department of Public Policy

ruodan.zhang@uconn.edu
Jin Zhu
Assistant Professor, Civil and Environmental Engineering

jzhu@uconn.edu