The SGCI is proud to announce the "Writing Hartford" Undergraduate Essay Prize for the 2019 – 2020 academic year!
Developed in collaboration with UConn Hartford's "Writing Hartford" initiative, the prize will be awarded to two undergraduate authors whose projects engage with the city of Hartford (its people, places, or other city-related issues) in some significant way.  The "Writing Hartford" initiative has had incredible success in encouraging students to venture forth, explore, and write about all that the city of Hartford has to offer, and the SGCI is proud to further support these efforts by sponsoring a monetary prize for exemplary student work.  Our thanks to Scott Campbell, Associate Professor of English and coordinator for Writing Hartford, for his help in designing and implementing this competition.
There will be one prize awarded in each of two categories: First Year (freshmen authors) and Undergraduate (open to all undergraduates regardless of year).  For the purposes of this competition, "writing" is broadly defined; submissions may be written essays and/or may include multimedia components as well.  Undergraduate students may submit their own work, or a faculty member may submit it on their behalf.  For full details, or to submit an entry, visit the official Writing Hartford Undergraduate Essay Prize page or click the image below.
While the subject matter concerns Hartford, we want to emphasize that this competition is open to ALL undergraduates students at all UConn campuses!  The final date for submissions is June 1, 2020.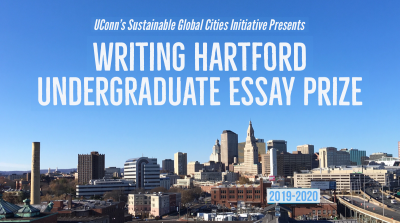 ---
---