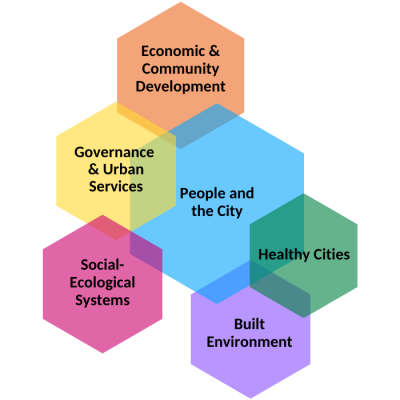 Welcome to the Sustainable Global Cities Initiative Faculty Affiliate Directory!  Are you looking for a researcher or topical expert in urban sociology, engineering, history, policy, health, or any other cities-related field? Browsing the SGCI's list of Faculty Affiliates — all of whom are UConn researchers who specialize in urban topics — is the best place to start. We hope this Directory will help facilitate connections both among UConn researchers and between scholars and members of the general public who are seeking expertise on a wide variety of urban topics.
---
The SGCI uses six broadly-defined Core Research Themes, pictured at right, to better categorize UConn's research capacity on topics involving cities.  Our Faculty Affiliates are grouped according to these six themes.  Affiliates self-select one primary Research Theme that best represents their research and scholarship, and — since cities-related research is often interdisciplinary — they typically select one or more secondary themes as well. 
This page shows all SGCI Faculty Affiliates sorted by their self-selected primary Research Theme.  To view all Faculty Affiliates who study any given research theme (as a primary OR secondary focus), or to view all Faculty Affiliates alphabetically by last name, please use the links located in the sidebar.
Click on any Faculty Affiliate name to see a detailed profile, including contact information, research interests, recent cities-related publications, useful links, and more.
You can learn more about the SGCI's Faculty Affiliate program here.
SGCI Faculty Affiliates Sorted by Primary Research Theme