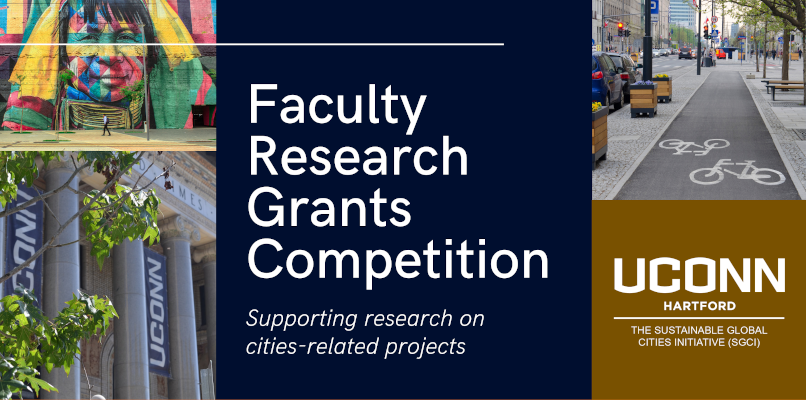 .
A core goal of the Strategic Plan for the Sustainable Global Cities Initiative (SGCI) is to expand UConn's research resources that focus on cities and urban life. To set a foundation for this goal, the SGCI produced An Inventory of Research Capacity on Cities at UConn. UConn makes significant contributions to the emerging and increasingly transdisciplinary research agendas that will have direct impacts on the quality of life, prosperity, and well-being of urban residents.
The SGCI Faculty Research Grants Program, with co-sponsorship of UConn Hartford, Office of Global Affairs, and the Office of the Provost, will fill a unique niche at UConn in support of urban-related research by offering small funding awards suitable for projects that do not require large field research or costly data acquisition. In addition, small grants can also support initial exploratory efforts in innovative areas of research, especially areas requiring transdisciplinary knowledge. Finally, small grants may be used to develop proposals for more significant extramural funding. Applications will be reviewed by an anonymous interdisciplinary panel comprised of University of Connecticut research professors.
Objective
To support and expand urban research at UConn, research faculty will be invited to submit proposals for two programs: (1) Research project grants (awards up to $10,000) and (2) Grant development (awards up to $2,500).
Faculty Eligibility
Grant applications are welcome from Principal Investigators (PIs) who hold a full-time appointment in a department or school in the University of Connecticut in any tenure, tenure track, or professor-in-residence rank. Proposals involving multiple faculty members are eligible, but a sole PI must be indicated. All investigators included on a grant application must hold full-time faculty appointments at UConn. Principal Investogators may submit only one proposal per annual grant cycle (deadline in mid-April); i.e., a PI submitting a project grant proposal cannot submit a grant development proposal as well in the same grant cycle.
Eligible Research Topics

The SGCI supports research on cities from multiple and transdisciplinary perspectives.  To assist with categorizing and conceptualizing the breadth and depth of urban-related research, the SGCI utilizes six broadly-defined (and often overlapping) themes. Proposed research projects are expected to relate to at least one of these six themes, but justifications can be provided for city-related topics that fall outside of these categories.
.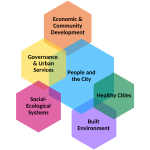 People and the City
Healthy Cities
Social-Ecological Systems
Built Environment
Economic and Community Development
Governance and Urban Services

.
Priority Area: In this year's competition, separate funding has been allocated to projects addressing urban issues in developing countries.
Application Process
Applicants will fill out an online form and upload a Proposal document (Proposal guidelines can be found below) in .pdf form.  An active link to the online application form will be uploaded to this page once it is ready. The online form will ask for the following information:
Name of PI
UConn Email Address
Academic title
Department or school
Name of Project
Grant Category (select either Research Project Grant or Grant Development)
The application period for the 2021 Faculty Grant Competition is now closed.  All completed applications that were received by April 23, 2021 are now under consideration. Thank you to everyone who provided submissions, and please stay tuned for news on this year's grant competition winners!
Proposal Guidelines:
Proposals must be submitted as a .pdf file and can be uploaded via the online application form. Proposals must include a one-page budget and cannot exceed six (6) pages in total.  The following information must be included:
Basic information:

Name of Project
Grant Category (specify either Research Project Grant or Grant Development)
Name of PI
UConn email address
Academic Title (e.g. Associate Professor, Professor-in-Residence, etc.)
Department or School

Research Questions including the project's contribution to understanding cities, and specifying any connection to prioritized topics (if applicable)
Research Methods including data or archive sources
Project Outcomes including expected publication venue(s)
One-page Budget that must include:

Anticipated funding amount from SGCI grant (maximum award amounts are $10,000 for a Research Project Grant and $2,500 for Grant Development)
Line item expenditures

Allowable costs: Research assistant salary, course buyouts (approved letter from Department Head required), travel to conduct research, materials and supplies
Unallowable costs: faculty member salary, clerical or administrative personnel salaries, service/maintenance contracts on equipment, facilities renovations, institutional memberships in professional organizations, costs association with publication of results of research (including page charges, purchase of reprints, or journal costs)

Brief justification for expenditures
Identification of other potential sources of intramural or extramural funding
Timeline
Online applications will be accepted until April 23, 2021.  Target date for notification of grant recipients is May 31st, 2021.
Contact
Robert H. Wilson, SGCI Director
robert.h.wilson@uconn.edu