Due to the COVID-19 pandemic and sectoral changes that have been ongoing for decades, communities across the United States face a unique set of challenges, especially related to income, skills and health disparities. The New England Regional Project on Economic Development (NERPED) seeks to address these challenges faced by communities in the New England area, especially communities experiencing persistent extreme poverty. We are doing this through two main projects, funded through a $500,000 USDA grant.
Essential Employment and Racial Disparities of COVID

COVID-19 has differentially impacted communities, vocations, and minority groups, but especially essential workers. Using rich mortality data from several states in New England, NERPED is documenting the differences in mortality between these different groups and how this will affect the economic outlook of communities.
Skill Gaps: Connecting regional skill sets to jobs of the future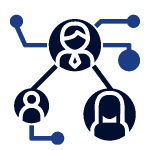 To better understand how to improve future employment matching, NERPED is identifying skill gaps caused by the pandemic and lockdowns. We are doing this by working through chambers of commerce and business associations to identify skills that have been difficult to fill, as well as using second databases to pinpoint the skills for each job and the corresponding demand for these skills. Once this data has been cataloged, we will create a web portal for the public and provide information to governments, job centers, workforce development agencies, and social services. The project is currently focused on the New England area, but we aim to expand the scope to include the entire United States in the near future.
Project Leads

Nathan Fiala, Agriculture and Resource Economics, CAHNR
Thomas Krumel, USDA Economic Research Service
Project Researchers

Rui Sun, Economics, UConn
Corey Goodrich, Institute for Collaboration on Health, Intervention, and Policy (InCHIP), UConn
NERPED is made possible with support from: